Vicki Hunt (Girl Greaser) is a character from the 1982 movie Grease 2.
In "The First Day", when everyone got to their classes, in
Mr. Spears
' class,
Vicki Hunt
was taking a snooze on her desk. As she slept, while
R.G.
,
Sharon Cooper
, and
Francine
watched with anticipation,
Louis DiMucci
snuck up behind her with a rat. Sure enough, as the extremely nervous, emotionally discombobulated Mr. Spears was taking his pills, the furry critter crept into her blouse, and she shrieked,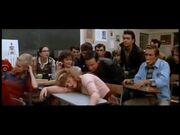 causing Mr. Spears to collapse on his desk like a sack of jelly.
In Score Tonight She and Roy were dressed in blue bowling league shirts.
In Reproduction, after Francine's "Put your pollen tube to work" verse, Vicki's verse was as stimulating "Make my stamen go berserk!"
At the June Moon Talent Show, Vicki portrayed the month of October (verified by Donna King), dressed in skeleton tights, a cape, and a jack-o-lantern headpiece.
She was played by Vicki Hunter.
Community content is available under
CC-BY-SA
unless otherwise noted.