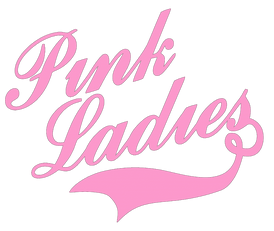 The Pink Ladies are a gang of girls that are dating the T-Birds and routinely hang out as a large group at the Frosty Palace. At their sleepovers, they smoke and drink alcohol, even though they are underage. In the first film, they consist of Rizzo, Jan, Marty, Frenchy, and Sandy Olsson. In the sequel, they consist of Stephanie Zinone, Sharon Cooper, Dolores Rebchuck, Paulette Rebchuck and Rhonda Ritter.
Throughout the movie they can be seen sporting their Pink Ladies jackets.
Gallery
Community content is available under
CC-BY-SA
unless otherwise noted.