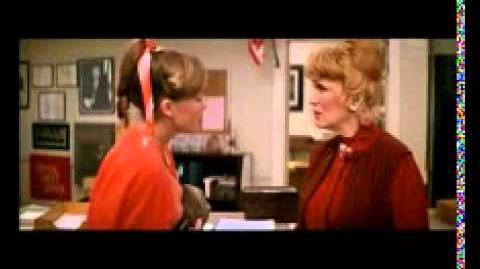 Olivia Jones is a minor character in Grease 2.
She was first seen in Ms.Yvette Mason's class, wearing a gray skirt, a dark red blouse, and a red scarf, her brown hair tied up in a high ponytail. When Ms. Mason called for everyone to take a seat, Goose McKenzie lived up to his nickname, and `goosed' Olivia's tush, causing her to yelp, and half-heartedly swing her purse at him (Goose: You loved it!).
When Ms. Mason called for everyone to say `hello' to Michael Carrington, Olivia could be seen near the middle front row as the class echoed "'Hello' to Michael Carrington'!"
After the Reproduction number, Olivia came into Mrs. McGee's office, and stated that she was worried; She had missed her last two (biological) periods - indicating she might have had `an indiscretion' with either a fellow student or someone outside of Rydell. Mrs. McGee ushered the confused girl out of the office, misunderstanding - she thought Olivia meant class periods.
Writer / Fan's note: Olivia (named in honor of Olivia Newton-John) was played by a `day-player' actress, Janet Jones, the same actress/model who married hockey legend, Wayne Gretsky. Ivy Austin (Francine) informed me of her identity through email