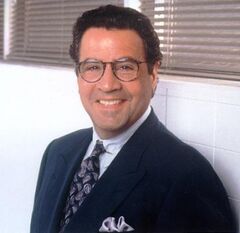 Michael Tucci (born 15 April 1946 in New York City, New York, U.S.) is an American film, TV, and stage actor.
Biography
Edit
Graduated from H.Frank Carey High School in Franklin Square, New York. He played the T-Birds member Sonny LaTierri for the 1978 film version Grease, a role that he is best known for. He portrayed law student Gerald Golden in the TV series The Paper Chase from 1983 to 1986. For five years Tucci played Garry Shandling's best friend Pete Schumaker on the cult classic It's Garry Shandling's Show (1986–1990). He also spent more than three years touring with companies of the musical "Chicago," performing as lead character Roxy Hart's husband, Amos. Michael was also a series regular on "Flying Blind". HOLD ME!, Groucho, The Wizard of Oz (50th ), Grease, Godspell, Minnie's Boys, KId Twist are some of his theatre credits. He graduated C.W. Post College and Brooklyn Law School with a Juris Dr.
On television he also played Dick Van Dyke's friend and hospital administrator Norman Briggs, for the first four seasons of Diagnosis: Murder. Tucci has taught for 15 years, teaching and coaching Introduction to Fine Arts and Theater Arts at St. Francis High School in La Cañada Flintridge, California and UCLA (extension) "The Business of Acting". Michael is presently acting again and is represented by BBR across the Board...David Brady.
Graduated from H. Frank Carey High School, Franklin Square, New York.
Michael and his wife Kathleen have two daughters, Kate and Kelly.
Went to law school, passed the bar exam, and briefly became an assistant district attorney in New York until disillusionment with the job and career politics set in.
Playing "Amos Hart" in national touring company of "Chicago". [1998]
Currently teaching at St. Francis High School in La Canada [Jul 2004]
From September 2000 to present, teaching theater arts class at a private high school in Southern California. [Aug 2000]
Community content is available under
CC-BY-SA
unless otherwise noted.