Martina Helena Maraschino, more commonly known as Marty, is one of the protagonists in the movie Grease, and is one of the members of the Pink Ladies. Her boyfriend is Sonny.
In the 1978 movie Marty is played by Dinah Manoff, in the 2016 live performance by Keke Palmer and in the 2017 play version by Tanya Thurlby (alongside her co-star and singer, Alex Coppleman whom played Thurlby's love interest).
Appearance
Edit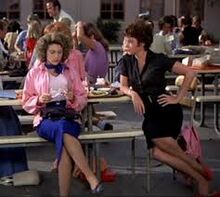 Marty has light brown, curly hair and brown eyes.
Her first outfit was a pink V-neck sweater with a blue pencil skirt and matching heels & scarf, as well as her pink ladies jacket that was shown in the first scene of the movie.
Her second outfit was a black halter top, black pedal pushers, black cinch belt, black heels and pink scarf with Pink Ladies jacket.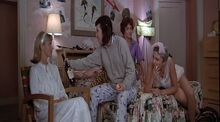 For the sleep-over scene, she is wearing a white embellished nightie and white panties with her red Japanese kimono. Her hair is pinned up in rollers in a hair net. She also donned a blond wig for "Look at Me, I'm Sandra Dee".
Her next outfit was a black scoop neck shirt, an orange pencil skirt with matching scarf, purse, and heels. Her Bandstand outfit was a strapless sweetheart neckline jade green ruched dress and matching flower in her hair, silver heels.
She is then seen at the drive-in in a purple elbow length scoop neck shirt, black cinch belt,light purple and dark purple patterned pedal pushers, white canvas shoes and black purse, holding her Pink Ladies jacket.
At Thunder Road, Marty is wearing a red tank, blue denim pedal pushers, black cinch belt, red hairband, red wedge shoes, and carrying her Pink Ladies jacket.
At the Carnival, she is shown wearing a pale peach halter tie top, white pedal pushers, and white wedge heels.
Personality
Edit
Marty often tries to act sophisticated. She is generally nice, but can be uninterested with conversations unless they are about her or juicy gossip. In "Summer Nights", she doesn't seem to care about what Sandy is saying, along with Rizzo. Marty is very concerned with appearing mature and not seeming juvenile, as indicated by her embarrassment when Jan acts childish. This is probably due to her romantic life; Marty has many pen-pals who she claims sarcastically to be "hopelessly devoted" to. One of them is a marine deployed to Korea. She likes older men, and is flattered by the older Vince Fontaine flirting with her at the Rydell prom. 
Community content is available under
CC-BY-SA
unless otherwise noted.