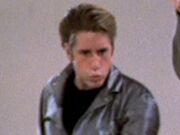 Artie Tennyson was a character in the movies Grease and Grease 2, played by Andy Tennant.
In Grease, Artie was a freshman. He had met – and danced beside – T-Birds' founder, Danny Zuko, when the T-Birds burst out into the raunchy half of the `Summer Nights' song. He learned from Bernie Dillard's girlfriend, Trixie Andrews, who was in Rydell that same year, that the Pink Ladies were sang a sweeter, more innocent version by beautiful, kind-hearted Sandy Olson.
Artie was also there when the original T-Birds jammed a very raunchy song about Kenickie's car, a former junker transformed into a vicious street rod, `Greased Lightnin''.
Artie was an athletic freshman, assisting in helping Coach Calhoun teach Danny Zuko in basketball techniques. As such, Artie got to see the volatile side of Danny Zuko. He wasn't aware that Danny wasn't very athletic, and Artie quick-flicked the basketball to Danny, who caught it, but it hit his abdomen. Danny warned Artie, "You better watch it." After several failed attempts, Calhoun dribbled the ball for Danny, but it bounced away, and Artie caught the ball and handed it back to Calhoun, "Here you go, coach".
Artie was last seen dancing beside the `Shake Shack' during You're The One That I Want.
---
Grease 2
In 1961, Artie was a senior, and present when Principal Mcgee was on the PA, and had mistakenly said overhead "If you play an instrument, it's better to play with a group than with yourself", instead of by yourself. That snafu cause Artie to laugh out loud. This year Artie was dating / paired with Sandi Green.
During Score Tonight, he and Sandi wore goldenrod yellow bowling shirts with dark blue detailing.
During Reproduction, Artie and Bernie Dillard placed their books on Michael Carrington's shoulders and used him for a headboard for a much-needed `nap' due to being bored by Mr.Stuart's class. Later, when Donna Singer challenged the guys "I don't think they even know what a PISTIL is!" Artie took up the challenge "I got yer pistiol right here!" And chased her around the class, causing her to squeal his name.
At the climax of the film, We'll Be Together, he and Sandi were dancing together, and she took the Hawaiian lei from her neck and placed it over his shoulders.
Note: Artie, Francine, and Willie Willard were the only of the Boy or Girl Greasers whose names were said aloud in the film.
Community content is available under
CC-BY-SA
unless otherwise noted.